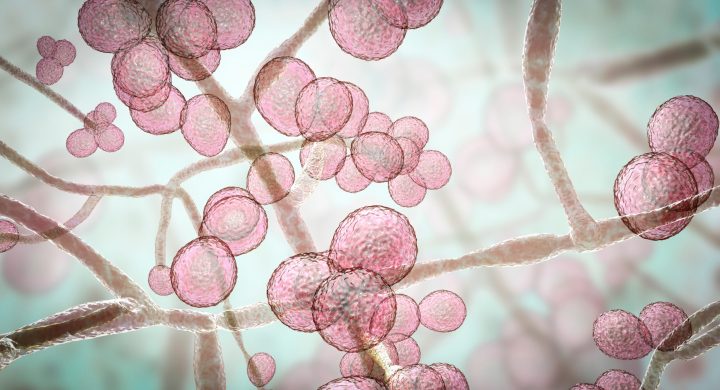 Every day, 611,000 Americans are admitted to hospitals across the US. A whopping 1 in 31 will contract a Healthcare Associated Infection (HAI) at some point in the treatment process, putting people's health at risk and ballooning costs for healthcare providers.
While countless pathogens can cause an HAI, one fungus, in particular, keeps hospital administrators up at night: Candida auris (C. auris), a multi-drug resistant fungus that can cause serious infections and even death in some patients.
The Centers for Disease Control and Prevention (CDC) has called C. auris an "urgent threat," noting that it's spreading at an "alarming rate" in healthcare facilities, including hospitals and nursing homes.
C. auris isn't a new fungus. It was first identified in Japan in 2009, and cluster outbreaks have been reported in hospitals since at least 2015, but several breakout cases and patient deaths are prompting hospital administrators to evaluate their readiness to fight novel fungal infections.
Understanding C. auris
The CDC has tracked C. auris infections across the US for a decade. However, the count of C. auris cases showing resistance to echinocandins in 2021 was roughly triple the number recorded yearly in the prior two years.
An April 2023 report by the Annals of Internal Medicine found that the volume of colonization screenings and the number of screening cases saw a significant rise in 2021, with an increase of over 80 percent and more than 200 percent, respectively. Between 2019 and 2021, C. auris was detected for the first time in 17 states.
The CDC is especially concerned about C. auris because:
It is multi-drug resistant, so proven antifungals are rendered ineffective. As the National Library of Medicine explains, "C. auris is resistant to the majority of antifungal drugs, hence establishing itself as a new example of one of the world's most obdurate health threats resulting from infections caused by various drug-resistant organisms."
It is difficult to identify with standard laboratory methods, making it prone to misidentification or inappropriate management.
It has caused outbreaks in healthcare settings, where close contact between patients and personnel, invasive medical procedures, and other factors make it more prone to spreading. Explaining the fungus' unique impact on the hospital setting, the American Society for Microbiology reports, "There is growing evidence that C. auris has the ability to persistently colonize hospital environments with the propensity for transmission in health care settings."
The consequences can be deadly. The CDC notes that the fungus has the potential to invade the blood, heart, and brain, causing an infection that is fatal for one-third of patients.
Understandably, hospital administrators want to stay ahead of this frightening fungus, and many are diverting time, talent, and financial resources to ensure they are best positioned to prevent an infectious outbreak, and prepared to respond if an incident occurs effectively.
Recommended Infection Prevention Measures
Preventing C. auris infections in a healthcare environment requires a proactive, multifaceted effort from all stakeholders. Specifically, the CDC recommends six primary measures to prevent C. auris transmission in healthcare settings.
#1 Follow standard hand hygiene practices.
Alcohol-based hand sanitizers are the most effective products for reducing germ and fungus quantities, and the CDC encourages healthcare practitioners and their patients to use these products as a hand sanitation best practice.
Furthermore, it's important that all involved parties cleanse their hands using soap and water whenever they are visibly dirty, before eating, or after restroom use.
#2 Implement transition-based precautions based on the setting.
Medical professionals should apply Contact Precautions when dealing with patients affected by C. auris. Healthcare workers should use special precautions when caring for patients with C. auris in hospitals and nursing homes, similar to treating other resistant infections.
#3 Prioritize cleaning and disinfecting the care environment.
The CDC advises medical professionals to use EPA-registered hospital-grade disinfectants proven effective against C. auris. Nevoa's full-room and handheld foggers are powered by Microburst, which kills up to 99.9999% of pathogens in just two minutes, including C. auris.
Nevoa's proprietary Microburst hypochlorous acid (HOCI) solution is 80 to 100 times more effective than bleach. The EPA-registered, hospital-grade disinfectant provides 100 percent surface coverage and features zero bacterial resistance. The eco-friendly HOCI solution is pH neutral, 100% biodegradable, and won't damage equipment or surfaces.
When coupled with routine cleaning of reusable equipment, including shared mobile equipment, Nevoa's Microburst can help medical facilities prevent C. auris outbreaks.
#4 Communicate patient status to relevant stakeholders.
When a patient diagnosed with C. auris is transferred, it's crucial to communicate their status to the receiving facility to ensure appropriate precautions and care continuity. This step helps protect other patients and healthcare workers from potential exposure to the organism.
Additionally, screening contacts of a newly identified C. auris case is recommended to discover possible C. auris colonization. This proactive measure is an effective way to prevent the spread of the infection, as unknowingly colonized individuals can transmit the pathogen even if they don't show symptoms.
#5 Maintain laboratory surveillance of clinical specimens to detect additional cases.
Laboratory surveillance of clinical specimens is a critical step in detecting additional cases of C. auris. This surveillance involves systematically testing samples from patients, particularly those at high risk or displaying symptoms, to promptly identify and manage new cases.
Early detection through laboratory surveillance allows for the immediate implementation of infection control measures, which reduces the potential for widespread transmission.
Doing Nothing is Not an Option
The growing threat of C. auris within healthcare settings is a reality we cannot ignore. As an infection that's spreading beyond the elderly and at-risk patients to affect kids and otherwise healthy patients, it demands prompt and efficient countermeasures to prevent the infection's spread, protect our patients, and safeguard our healthcare system's integrity.
If leaders fail to act, C. auris can become endemic, posing an even greater risk to more expansive patient populations, making it harder to contain and more costly to patients and healthcare providers.
Adopting innovative solutions like Nevoa's fogger with Microburst technology can make a significant difference as part of this preventive action. Nevoa's technology is more than just a solution. It's an essential tool for our fight against HAIs. Don't wait for C. auris to strike; act today to prevent an outbreak tomorrow.