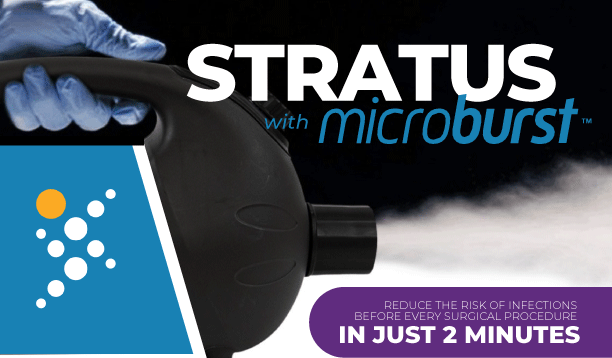 The handheld fogger with Microburst hypochlorous acid (HOCI) kills 99.9999% of pathogens in just two minutes — including the most common causes of surgery site infections.
GILBERT, Arizona (May 5, 2023) – Nevoa, Inc., a leader in the field of automated whole-room disinfection, announced today the launch of a handheld fogger powered by Microburst, the company's proprietary hypochlorous acid (HOCI) solution.
The portable, fast-acting device is based on technology developed for the company's flagship product, Nimbus, a robot that atomizes Nevoa's hospital-grade, EPA-registered disinfectant into a dense fog in an unoccupied room. Stratus was developed to provide the same advanced disinfection in areas where a full-room fogger is less practical, including operating rooms, cardiac catheterization labs and specialty procedure rooms.
"We're proud to launch new technology and processes that improve patient care and reduce the workload on the operating room staff," said Martin McGonagle, Nevoa's Chief Executive Officer. "Stratus with Microburst and our easy to execute OR protocols make it possible to quickly provide advanced disinfection before every surgical case in order to help reduce the problem of surgical site infections."
Designed for Advanced Disinfection Between Surgical Cases
Until now, highly effective advanced disinfection technologies like whole-room foggers and UV lights have been impractical to apply between surgical cases, due to room-turn time constraints and the labor required for application.
According to Neurosurgeon Dr. Abhay Sanan, "Thorough disinfection of the operating environment is essential to reducing patient infection risk and ensuring the best possible outcomes, but current technology is marginally effective and time prohibitive — if advanced disinfection is performed, it's limited to after the end of the day. Therefore only the first patient the next day can be assured of the intended benefit."
"With Neova's introduction of Stratus with Microburst, we can easily and efficiently provide ADVANCED DISINFECTION before every surgical case. Every surgical patient deserves this benefit — not just the first patient of the day."
– Dr. Abhay Sanan, Neurosurgeon
Stratus With Microburst Features and Benefits
The Stratus handheld fogger was designed to be easy, efficient and highly effective. The fogger kills 99.9999% of pathogens in just two minutes, including Staph, MRSA and Pseudomonas — the leading causes of surgery site infections (SSIs).
Nevoa's proprietary Microburst hypochlorous acid (HOCI) solution is 80 to 100 times more effective than bleach. The EPA-registered, hospital-grade disinfectant provides 100% surface coverage and features zero bacterial resistance. The eco-friendly HOCI solution is pH neutral, 100% biodegradable and won't damage equipment or surfaces. Features of Stratus With Microburst include:
2-minute application time

1-minute contact time to kill common SSIs

Full surface coverage with easy application

Compact and lightweight (4.4 lbs)
Applications and Usage Protocols
Stratus and its associated protocols were specifically designed to benefit hospitals, ambulatory surgical centers and physician offices where any invasive procedure creates the risk of infection.
The Stratus OR Room Turn Protocol is a 2-minute process in which Microburst disinfectant is applied via the Stratus Fogger to patient contact areas using a methodical, S-motion. Microburst requires 1-minute contact time to kill prevalent pathogens.
Stratus can also be used for an end-of-day Terminal Clean. During the 5-minute process, Microburst is applied to all exposed equipment and room surfaces. The solution is allowed to completely air dry, and any remaining residue may be wiped with a clean wipe or low-lint towel.
About Nevoa
Headquartered in Gilbert, Ariz., Nevoa Inc. was founded to develop technology-based disinfection products that eliminate healthcare-associated infections (HAIs). Nevoa's mission is to improve upon the healthcare industry's decades-old manual disinfection and cleaning practices with highly effective, automated protocols that provide superior disinfection at a reduced overall cost.
Powered by the proprietary Microburst hypochlorous acid solution, Nevoa's Nimbus and Stratus fogging technologies have been proven to be 99.9999% effective against pathogens that cause healthcare-associated Infections (HAIs), and are 300 times more effective than manual cleaning alone. For more information visit https://nevoainc.com.